Printing & Output Distribution
Bring new value to printing operations with Lean principles.
Consolidated printing and distribution services can reduce the significant costs of printing, postage and mailing to providers and members.
We deliver these savings for customers with a corporate output and distribution center that utilizes advanced technology and a Lean operational methodology.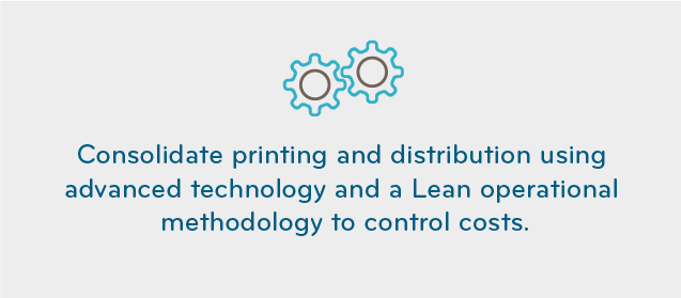 This entails complete management of the creation and delivery of member and provider documentation with processes and procedures that are fully HIPAA and PHI compliant. We provide job tracking and archiving, reprint capability, application print architecture assistance, forms warehousing, site font library management, inventory control and operational acceptance testing. Services include information printing, distributed printing, MICR (check) printing and various printing options, plus distribution via automated insertion, automated or manual bulk mail and presorting. 
In addition, we automatically incorporate USPS national change of address databases and report undeliverable USPS mail so you can keep your database current. Finally, we help take advantage of any presort or postage discounts or any other qualifying discounts to increase your savings.