Mailroom & Front-End Processing
Begin processing a claim the day it's received.
Our innovative technology speeds the claims process from start to finish by creating a paperless workflow environment.
We image and load documents into an electronic workflow system to support faster, more accurate claims processing, adjudication and payment. While electronic claims automatically flow through a mailbox system, paper claims are converted into electronic documents via optical character recognition. Data is subsequently captured and validated before processing and adjudication. Electronic documents are tagged with control numbers that include the date of receipt and then routed directly to the appropriate functional area for processing.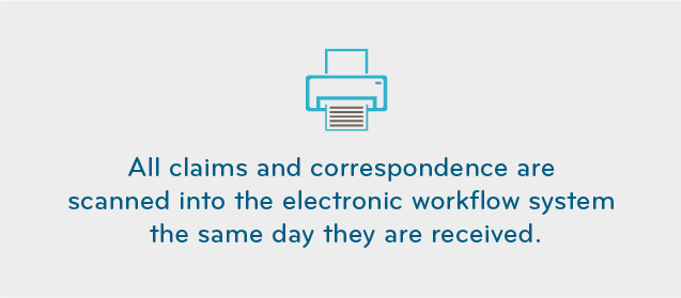 To help maintain compliance with processing timelines, documents are scanned into the workflow system the day we receive them. CGS supports providers, clearinghouses and other electronic submitters with an electronic data interchange (EDI) help desk to provide technical support for transactions and submissions.