Fraud Prevention
Make every area of operations an asset in the fight against fraud.
Decades in Medicare administration have taught us that merely detecting fraud isn't good enough; you need to evolve in ways that prevent it from occurring.
That's why we offer a proven detect-and-prevent approach that reliably results in the lowest claims payment error rate in Medicare. This mitigates those difficult-to-recover fraud losses with clear policies and procedures to ensure medical necessity, monitor payment activities, close loopholes, and educate providers.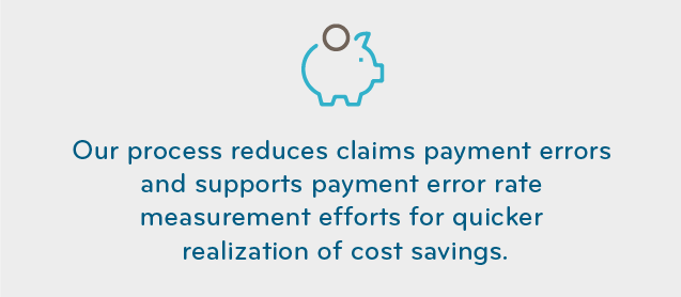 Our tools, technical resources, personnel, and processes can help you reduce improper payments, avoid unnecessary costs, and prevent fraud throughout the entire healthcare continuum. The first step is creating a comprehensive, approved medical review strategy that's based on historic data, national trends and decades of experience. This medical review process includes key detection and prevention methodologies, and can leverage widespread reviews to close the loop on new and recurring fraud, waste or abuse issues.