Celerian Group
Our operational excellence means exceptional value for you.
For more than 50 years, CGS has handled Medicare and Medicaid benefits administration, claims processing, member and provider services, provider credentialing and provider education for health plans.
Headquartered in Nashville, Tennessee, we are part of the Celerian Group, a consortium of companies that helps government and private healthcare plans navigate the complexities of benefits administration in a changing marketplace.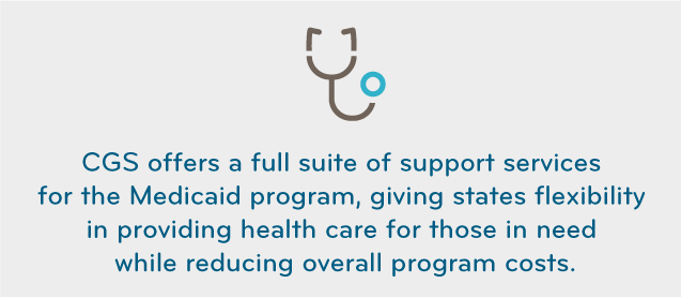 CGS is the Jurisdiction B and C Durable Medical Equipment Medicare Administrative Contractor (DME MAC) providing services to the states/territories of Alabama, Arkansas, Colorado, Florida, Georgia, Illinois, Indiana, Kentucky, Louisiana, Michigan, Minnesota, Mississippi, New Mexico, North Carolina, Ohio, Oklahoma, Puerto Rico, South Carolina, Tennessee, Texas, U.S. Virgin Islands, Virginia, West Virginia and Wisconsin.
CGS is also the Jurisdiction 15 A/B Medicare Administrative Contractor (MAC) providing claims payment and services for Medicare Part A and Part B for the states of Kentucky and Ohio and Home Health & Hospice services for the states of Colorado, Delaware, D.C., Iowa, Kansas, Maryland, Missouri, Montana, Nebraska, North Dakota, Pennsylvania, South Dakota, Utah, Virginia, West Virginia and Wyoming.